Alice Cooper Goes to Hell 3D was a maze for Halloween Horror Nights 2012 at Universal Studios Hollywood.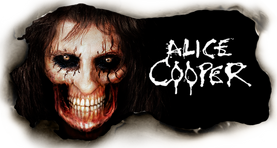 Description
Edit
Since the dawn of time, there is one place that man has feared above all others; a place of unending darkness, eternal torment and unimaginable horrors...a place called Hell. Now rock/horror icon Alice Cooper is going to take you there! Your journey into the abyss will take you through the mythical levels of Hell, each more terrifying than the last. With mind-blowing 3D visuals, you'll experience the inferno through the eyes of Alice Cooper. This promises to be one nightmare you won't easily wake up from!
Ad blocker interference detected!
Wikia is a free-to-use site that makes money from advertising. We have a modified experience for viewers using ad blockers

Wikia is not accessible if you've made further modifications. Remove the custom ad blocker rule(s) and the page will load as expected.