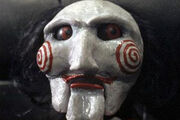 Billy (also known as Billy the Puppet) was one of the sub-icons that appeared during the Halloween Horror Nights: Ripped from the Silver Screen event at Universal Studios Florida, and was also the main icon at the Halloween Horror Nights 2009 event at Universal Studios Hollywood. He has been featured in all eight Saw movies.
Storyline
Edit
In the films Saw, Saw II and Saw III, Billy was used by The Jigsaw Killer (a.k.a John Kramer), to communicate with his victims on how to survive their gory traps. Following his death in Saw III, Billy is instead used by Mark Hoffman, one of his apprentices, in Saw V and Saw VI for communicating with victims. In Saw 3D, he is used by Doctor Gordon and Hoffman.
In Saw, Saw II and Saw III, Billy is voiced by Tobin Bell. In Saw IV, Saw V, and Saw VI he is voiced by Costas Mandylor. In Saw 3D, he is voiced by both Costas Madylor, and Cary Elwes.
Appearances at Halloween Horror Nights Orlando
Edit
Appearances at Halloween Horror Nights Hollywood
Edit