Castle Vampyr was one of the houses that took place at Halloween Horror Nights XIV. It was located in Soundstage 23.
Description
Edit
The castle itself is rumored to be the Blood Shrine of an ancient race that is long feared... but of which little is known. With ornamentation's gathered from all over the world, Castle Vampyr is said to contain a talisman from each "house" of the breed. And this evil congregation beckons the faithful to gather every thirteen years to renew vows to a dark power that drives their insatiable thirst for immortality.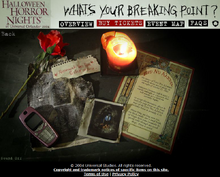 On the Halloween Horror Nights XIV Website in the patient records was an invitation to a pledge party for a sorority. It talked about how the location of the pledge party will be a secret until she gets there and that the party will be held at midnight. It also says how she had to wait in front of the sorority at 8:30 for a driver to take them there. Also the letter said to bring one long stem rose, one black candle, and a small bottle of virgin root wine. There was also phone messages how a girl made it to the castle and how it was creepy. The next message shows how shes been there for hours and how no one showed up. The next message shows how something is following her in the castle and how she cant find her way out. She then screams and the messages end.
This house had a sequel in 2007 called Vampyr: Blood Bath and its own room in 2015 in the Jack Presents: 25 Years of Monsters & Mayhem house.
This house won House of the Year in 2004.