Dungeon of Terror: Retold was one of the houses that took place at Halloween Horror Nights: Sweet 16. It was located in the Jaws Queue.
Description
Edit
Enter and old roadside haunt where the Storyteller's whispers call you deeper into hell.
Storyline
Edit
The Storyteller had bought and reopened the formerly popular Dungeon of Terror. She had turned the attraction into an even more twisted nightmare, and the actors? They were turned into the real creatures they were playing.
Scareactors
Edit
Pigman X3
Storyteller
Skullface
Female Pigface X2
Normal Overalls
Chainsaw Pigface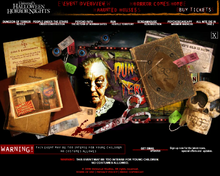 Ad blocker interference detected!
Wikia is a free-to-use site that makes money from advertising. We have a modified experience for viewers using ad blockers

Wikia is not accessible if you've made further modifications. Remove the custom ad blocker rule(s) and the page will load as expected.