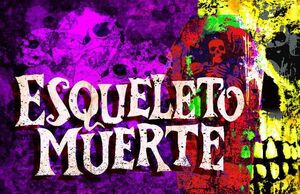 Esqueleto Muerte was one of the Scarezones that took place at Halloween Horror Nights 20: Twenty Years of Fear. It was located in the Plaza of the Stars.
Description
Edit
Revel in the seductive taunts of Death as you wind through a glowing skeletal nightmares!
Esqueloto Muerte was supposed to be a Day of the Dead party gone wrong, in which the skeleton statues have come to life.
Characters
Edit
Mariachi Skeleton (x5)
Neon Skeleton (x2)
Skeleton Bandit (x5)
Chainsaw Neon (x4)
Skeleton Stilt Walker
Ad blocker interference detected!
Wikia is a free-to-use site that makes money from advertising. We have a modified experience for viewers using ad blockers

Wikia is not accessible if you've made further modifications. Remove the custom ad blocker rule(s) and the page will load as expected.