Fear Revealed was one of the Scarezones that took place at Halloween Horror Nights: Twenty Years of Fear. It was located outside of Mel's Drive-In.
The scarezone was really more of a meet n' greet zone, as the icons all had their own small set and are available for picture taking.
Description
Edit
Empowered by 20 years of Chaos, Death, Sacrifice, Legend & Vengeance, FEAR emerges to reign supreme.
Characters
Edit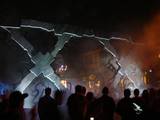 Ad blocker interference detected!
Wikia is a free-to-use site that makes money from advertising. We have a modified experience for viewers using ad blockers

Wikia is not accessible if you've made further modifications. Remove the custom ad blocker rule(s) and the page will load as expected.