Frankenstein's monster
is a
Universal Monster
that was featured as one of the main event icons in
Fright Nights
at
Universal Studios Florida
.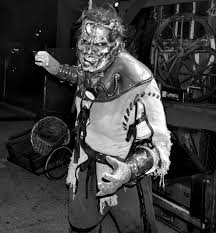 Appearances at Halloween Horror Nights
Edit
Frankenstein's monster appeared as one of the main event icons alongside Count Dracula, Wolfman, The Mummy, The Bride Of Frankenstein and Gill-Man at Fright Nights in 1991.
He appeared in the show Dr. Frankenstein's Theater Featuring Mistress of the Night, Frankenstein and Dracula. He used the likeness of Boris Karloff's performance in Frankenstein. At Halloween Horror Nights: Ripped from the Silver Screen, Frankenstein's monster appeared in the haunted house Frankenstein: Creation of the Damned. In the house, he attempted to get revenge on his creator, Victor Frankenstein, for mistreating him. In the final scene of the house, the monster succeeds by chaining Dr. Frankenstein up to the ceiling of his laboratory castle.
In 2012 it was revealed that Frankenstein's monster was a part of The Kerezan Legion.
Appearances at Halloween Horror Nights Orlando
Edit
Pictures
Edit
Contrary to popular belief, Frankenstein is the name of the scientist, not the monster.