Ghost Town was one of the houses that took place at Halloween Horror Nights XIV. It was located at Soundstage 22. In 2016, the house got a sequel, Ghost Town: The Curse of Lightning Gulch.
On the Halloween Horror Nights XIV website in the patient file records you saw a newspaper showing various disasters that took place in Lightning Gulch. There was also tape recorder where if you clicked on it you heard a man going insane talking to a female psychiatrist about how he found a map with the lost town of Lightning Gulch and how he compared places on the map to places in real life to find where Lightning Gulch had been located. He eventually found Lightning Gulch during a thunderstorm. There he found a saloon. In the saloon he found gold coins and he took some of them. Ever since he took them the ghosts of the people who had the coins had been haunting him asking him to give the money back. Also in the patient records you found the map and a telegram.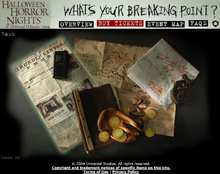 Description
Edit
Strangled by gold fever, the violent town of Lightning Gulch disappeared in a fierce thunderstorm that swallowed up the settlement and all its ill-fated souls. Today there is no trace of the Gulch... except when vicious storms range, once again revealing all of the buildings and the tortured ghosts that lurk in its streets, saloons, and alleyways. Still desperate to protect long lost treasure, these wretched spirits remain blinded by the lust for gold and enraged by greed.
Ad blocker interference detected!
Wikia is a free-to-use site that makes money from advertising. We have a modified experience for viewers using ad blockers

Wikia is not accessible if you've made further modifications. Remove the custom ad blocker rule(s) and the page will load as expected.