Halloween Horror Nights: Ripped From The Silver Screen (2009)
Edit
Universal announced on June 25, 2009 that this year's event will incorporate characters from the movie franchises, Child's Play (
Chucky
),
SAW
(
Billy
/Jigsaw), and Universal's The Wolfman will be used in this year's event.
Ripped from the Silver Screen's theme surrounds a mysterious old movie theater, the Universal Palace Theater. The Icon of the event is appropriately called The Usher, or Julian Browning , a mysterious, undead usher who haunts and cares for the theater. The Universal Palace itself seems to be an evil entity-- it "attacks" those who do not show it respect, as Julian warns as he enters visitors to the website.
Event website
Edit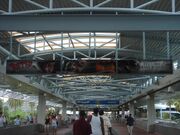 Throughout August, the website showed grainy monochrome images of the theater, while a voice discussed a historical society's attempt to restore it. As time went by, portions of the theater were gradually "filled in"; when a viewer rolled the cursor over the screen, sepia-toned photographs would appear. Reports of the theater's violent history were also released on the site. Each report discusses a different horrific event tied into one of the movies featured, and shows "evidence" from each case:
On August 27th, the site changed. It now featured a CGI introduction of Julian , bringing viewers into the theater, fully restored. Small dolls were positioned throughout the theater, and posters linked to each of the Haunted Houses were featured as hotspots. Viewers could interact with these posters by rotating them, revealing that the images were actually the creatures featured on the screen. Information regarding events and Scarezones was also posted on the 27th.
Attractions
Edit
Haunted Houses
Edit
Scarezones
Edit
Lights Camera Hacktion! (Hollywood Boulevard) – Hollywood Boulevard is being used as a location for the filming of the next big horror movie to be released in October 2010: The' CHAINSAW DRILL TEAM MASSACRE in 3-D. Lights, Camera, Hacktion! Our director, Mas Imair, noted horror film aficionado, is bringing the massacre to life in blood-red terrorcolor. But the actors seem to be taking their direction literally and are "hacking" through the cast and crew. It's a close encounter of the worst kind as the backlot becomes a hacklot and the streets run red with blood. Are you ready for your close-up?
Revenge of the Mummy: The Ride is an indoor roller coaster inspired by The Mummy and its sequels.
The Simpsons Ride is a motion simulator ride which takes you through the world of Krustyland with The Simpsons characters.
Men in Black: Alien Attack is an interactive dark ride adventure where you will join the ranks of the Men in Black to save New York City from a recent alien invasion.
Jaws puts you aboard Captain Jake's Amity Boat Tours, where you'll journey around the island of Amity, hoping to avoid the menace known as JAWS.
Hollywood Rip Ride Rockit was originally planned to run during the event, but will not until nets are installed underneath the coaster between the soundstage entrances.