"Think of the horror film moments that stay with you.  The moments that push you back in your theater seat and make you look away.  The screams of audience members in a darkened theater.  The things you see again at 3 a.m."
"A cold, lifeless hand takes your ticket. You're left with a bone-chilling shiver as you move toward an empty theater seat. The lights dim, voices fade, the film begins. The screen starts to rip apart as the action comes straight for you. The show's about to begin…"
Halloween Horror Nights: Ripped From The Silver Screen (2009)
Edit
Universal announced on June 25, 2009 that this year's event will incorporate characters from the movie franchises, Child's Play (
Chucky
),
SAW
(
Billy
/Jigsaw), and Universal's The Wolfman will be used in this year's event.
Ripped from the Silver Screen's theme surrounds a mysterious old movie theater, the Universal Palace Theater. The Icon of the event is appropriately called The Usher, or Julian Browning , a mysterious, undead usher who haunts and cares for the theater. The Universal Palace itself seems to be an evil entity-- it "attacks" those who do not show it respect, as Julian warns as he enters visitors to the website.
Event website
Edit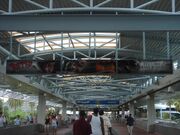 Throughout August, the website showed grainy monochrome images of the theater, while a voice discussed a historical society's attempt to restore it. As time went by, portions of the theater were gradually "filled in"; when a viewer rolled the cursor over the screen, sepia-toned photographs would appear. Reports of the theater's violent history were also released on the site. Each report discusses a different horrific event tied into one of the movies featured, and shows "evidence" from each case:
On August 27th, the site changed. It now featured a CGI introduction of Julian , bringing viewers into the theater, fully restored. Small dolls were positioned throughout the theater, and posters linked to each of the Haunted Houses were featured as hotspots. Viewers could interact with these posters by rotating them, revealing that the images were actually the creatures featured on the screen. Information regarding events and Scarezones was also posted on the 27th.
Attractions
Edit
Haunted Houses
Edit
Scarezones
Edit
Lights Camera Hacktion! (Hollywood Boulevard) – Hollywood Boulevard is being used as a location for the filming of the next big horror movie to be released in October 2010: The' CHAINSAW DRILL TEAM MASSACRE in 3-D. Lights, Camera, Hacktion! Our director, Mas Imair, noted horror film aficionado, is bringing the massacre to life in blood-red terrorcolor. But the actors seem to be taking their direction literally and are "hacking" through the cast and crew. It's a close encounter of the worst kind as the backlot becomes a hacklot and the streets run red with blood. Are you ready for your close-up?
Revenge of the Mummy: The Ride is an indoor roller coaster inspired by The Mummy and its sequels.
The Simpsons Ride is a motion simulator ride which takes you through the world of Krustyland with The Simpsons characters.
Men in Black: Alien Attack is an interactive dark ride adventure where you will join the ranks of the Men in Black to save New York City from a recent alien invasion.
Jaws puts you aboard Captain Jake's Amity Boat Tours, where you'll journey around the island of Amity, hoping to avoid the menace known as JAWS.
Hollywood Rip Ride Rockit was originally planned to run during the event, but will not until nets are installed underneath the coaster between the soundstage entrances.
Press Releases
Edit
August 27, 2009 MODERN HORROR FILMS COME ALIVE AT UNIVERSAL ORLANDO'S HALLOWEEN HORROR NIGHTS
For the First Time Ever, Universal Orlando Dedicates its Entire Event to Mega-Horror Films
SAW, The Wolfman, Chucky and More Are "Ripped from the Silver Screen" at The Country's Best Halloween Event
ORLANDO, Fla. (August 27, 2009) – For the first time ever, Universal Orlando is devoting its entire Halloween Horror Nights event to bringing horror films to life.  All eight haunted houses, all six scare-zones and two live shows will be directly inspired by some of today's most popular horror films.
In another first, guests will experience three powerful mega-horror film concepts live and in-person before seeing them on-screen: "SAW," the legendary horror series from Lionsgate® and Twisted Pictures, due in theaters with its newest release of "SAW VI" this October; "The Wolfman" from Universal Pictures, in theaters February 2010; and "Cirque Du Freak: The Vampire's Assistant," also from Universal Pictures, due in theaters October 2009. There will be two additional houses inspired by cult horror films. 
"Our guests are going to feel as if their favorite horror films have left the screen and surrounded them," said Jim Timon, senior vice president of entertainment for Universal Orlando Resort. "They will come face to face with many of the most disturbing characters in film history. When they leave Halloween Horror Nights, they'll wish their experience was just a movie."
The terrifying world of "SAW" – one of the most profitable horror franchises to date – will be transformed into a haunted house featuring iconic scenes from the films such as Jigsaw's lair and the tomb-like bathroom.  Guests will come face to face with Jigsaw and also watch as his victims struggle to try and win at his game.
Before guests can see the "The Wolfman" on-screen, they will be able to live its horror.  In this house they will walk through scenes from the film, joining "The Wolfman's" alter-ego Lawrence Talbot as he discovers a primal side of himself he didn't know existed.
A world where toys go bad is brought to life in a haunted house inspired by the "Chucky" films. Guests will experience a funhouse lead by the sadistic doll where favorite children's toys aren't what they seem.
This year's Halloween Horror Nights will also include dramatic new interpretations of Universal Pictures' famed Frankenstein and Dracula.  Both will be featured in their own houses and both will be more horrifying and intense than ever before.
In the Silver Screams haunted house – based on a demented movie theater run by a supernatural usher – guests will experience "Shaun of the Dead," Universal Pictures' "The Phantom of the Opera," Lionsgate®'s "My Bloody Valentine 3D" and more.
Two live shows inspired by popular films return this year – the entertaining "Bill and Ted's Excellent Halloween Adventure" and "The Rocky Horror Picture Show: A Tribute."
Halloween Horror Nights runs September 25-26, October 1-4, 8-11, 15-18, 21-25 and 28-31.
Articles
Edit
http://blogs.orlandosentinel.com/features_orlando/2009/09/universal-studios-halloween-horror-nights-haunted-houses-preview.html
posted by Dewayne Bevil on Sep 10, 2009 10:51:04 AM 
Michael Roddy, Universal Orlando show producer, gave us a sneak peak of some Halloween Horror Nights elements. (The event starts Sept. 25.)
First, a rundown on the three houses built within Universal Studios' soundstages -- The Wolfman, Dracula: legacy of Blood and Frankenstein: Creation of the Damned.. 
"Without a doubt, from a design standpoint, these are three of the most immersive mazes we've ever designed," Roddy says.
+ "Our Frankenstein story takes place after "Bride of Frankenstein," so the laboratory and the castle have been destroyed, and Victor Frankenstein has been rebuilding it. So as you walk into this, it's a crumbling facade of a castle, but you also see the he's been putting the building back together using the same type of haphazard materials that is suggestive of the creature itself."
+ "When you go over to Dracula, it's actually Castle Dracula. It's this big, gothic, beautiful, castle turret. As you walk through you're actually in rooms filled with these beautiful, ornate tapestries and gothic arches and statuary. And of course you have all of Dracula's brides, who are these feral creatures that are bloodthirsty."
+ "In Wolfman, we were able to visit the [Universal] Pictures Group. We saw the movie. We were basically given access to all their designs, and this is a big-budget version. They have spent a lot of money, a lot of amazing production value has gone into it. It's been taken completely serious. So then you 're going to walk through the actual forest with wolfman, past gypsy camp, into all these environments while being chased by this lycanthrope."
The SAW house will include a bathroom scene, Roddy says, along with the reverse-bear trap, the hair pull and a hand in a jar of acid. (This might be a good time to note that Universal considers Horror Nights to be a PG-13 event.)
"You're actually going to walk into Jigsaw's lair," Roddy explains. "As you walk in, it's an industrial building, almost nondescripte. As you enter, you're immediately in his workshop. You'll see all of the TVs and the cameras, and you'll come 'face-to-monitor' with Billy, who'll give you your task, which is to make it through this maze."
Here's another warning, this one from Roddy: "If you are terrified by those [Saw] films, then the maze will shut you down."
"We'll never touch you, we' never hurt you, but when you leae, you're going to feel like you've been put through the wringer, mentally," he says. Feel better? 
Meanwhile, over at the Silver Screams house, Roddy explains that the its mishmash theme reflects the backstory of the Usher character. 
"You'll see how he became this vengeful ghostly spirit. You'll see his favorite movies like Phantom of the Opera, you'll walk through envinorment of Shaun of the Dead, you'll walk through My Bloody Valentine, and a host of others that are, again, Universal brands but we didn't think justify an entire maze," Roddy says.
We'll be seeing more of the Usher. Although advertising for the event banks of the Ripped from the Silver Screen campaign, the Usher will be on the Facebook page and Horror Nights Web site.
"You'll definitely feel his presence throughout the entire event," Roddy says. He is your gateway to the event when you get here. ... We're considering him an icon that will stand toe-to-toe with all of the others that you have known."
The scare zone called Horrorwood Die-In will also have a variety of film characters. The usual Mel's Drive-In area will be transformed into a drive-in, complete with cars and big screen showing movies and those "Let's all go to the lobby" sort of shorts.
"Then all of a sudden, you'll come face-to-face with these characters that have literally come off the screen," Roddy says.
Expect Norman Bates, the character from The Thing and assorted zombies. "It's going to be a blast," he says.
Tradition HHN favorites are back, including the Chainsaw Drill Team,  the Bill & Ted show and others. "Rat Lady is our good-luck charm."
Silver screen totally inspires Horror Nights
Edit
Coming soon August 27, 2009|By Dewayne Bevil, Sentinel Staff Writer
For the first time in its 19-year history, Halloween Horror Nights will be completely devoted to scary movies, Universal Studios theme park will announce today. All eight haunted houses and each of its six scare zones -- home to terrifying street performers -- are inspired by big-screen thrillers.

"We're turning the front gate into the facade of the Universal Palace Theater. There will be a box office, there will be a movie screen showing trailers," said Michael Roddy, show director for Universal Orlando Entertainment. "And then once you walk in, all these environments, all these movies are ripped from the silver screen and come to life." As announced in June, three contemporary movie characters will be featured. Jigsaw (from the Saw series), Chucky (Child's Play) and the Wolfman (from a film set to open in February) will be set up in their own houses
. Saw producer Oren Koules, who lives in Tampa, said he looks forward to the after-hours event, which runs for 23 select nights beginning Sept. 25. Koules said that having people experience the Saw films live -- "not just on the screen, but to have people walk through it, taste it, touch it and feel it -- is amazing for us." Saw VI debuts Oct. 23. The movies, which each have been released near Halloween, are graphic, violent, mind-game-driven films filled with traps. The Saw house at Horror Nights is designed to be intense, Roddy said. Guests will be the ones being tested, he said. "As they progress farther into the maze, every step they take is causing and affecting the traps to be sprung."
Two houses will be devoted to Dracula and Dr. Frankenstein's monster. Two others are inspired by B movies based on a Midwestern, chainsaw-wielding family and "cannibalistic humanoid underground dwellers," Roddy said. The eighth house will highlight several horror films including Shaun of the Dead and The Phantom of the Opera. The scare zones will spotlight corpses reanimated into super-soldiers, a toxic green mist, a chainsaw drill team, an abandoned drive-in theater and half-human, half-beasts. One zone will be devoted to Cirque Du Freak: The Vampire's Assistant, a Universal Pictures film also set to open Oct. 23. Two stage shows return: "Bill & Ted's Excellent Halloween Adventure" and "The Rocky Horror Picture Show: A Tribute.
COMMENTS
Edit
Specualtion
Edit
"It is time now to speak of the elephant in the room.

There is a diagram that many of you have seen, I will not be posting it in this thread. Perhaps someone else may do so, but if it is legitimate, it may have been stolen.

However, I feel the need to discuss it now because having seen it, I believe it has caused confusion from its being misinterpreted as a diagram of what exactly HHN 19 will entail. That is incorrect.

It is clearly labeled as being an I.P. integration into overall HHN message. Thus, if it is legitimate it is intended to be an internal promotional tool for integrating intellectual property into the brand message of this year's event. Also there are several indicators that this is a preliminary document, compiled before all decisions have been finalized.

Assuming then, for the moment that it is legitimate let us examine it's structure:

It is in the shape of a pyramid.

The top tier represents the logo for HHN 19's themed name. It does not give any such finalized name at all, but merely a generic HHN 19 logo. This indicates that the final themed name was not decided upon at the time the diagram was made!

The second tier represents the presenting character or theme. This is the Usher. However, the diagram has a question posted at this level asking how this character will be used. Again, this indicates that this decision had not yet been made at the time the diagram was designed!

The third tier shows the featured intellectual property, three "icons" (do not make the mistake of interpreting the word 'icon' in the way HHN fans use the word!) as leveraged movie promotions. They are Chucky, Saw, and the Wolfman.

The fourth tier shows supporting content, four items. They are Dracula, Frankenstein, Silver Screams and Fangoria. The third and fourth tiers have been assumed by many to represent the actual houses. I believe this assumption to be an error. For one thing that would indicate only seven houses. We know from the code-names pulled by Chad from official sources that there will be eight houses. Secondly, the fifth tier shows items that are clearly not houses: shows, scarezones (not specified) and even the new Rockit attraction - and these are also labeled as supporting content. Thus all supporting content are not houses.

One item in the fourth tier is in fact the horror magazine Fangoria. Some have taken this to mean that there will be a Fangoria house this year. However the notes in the diagram include the promotional tactic of targeting a hard-core horror fan base through the magazine in booking vacation packages early. If this was to include a Fangoria house, I suspect that Fangoria would already be promoting this in their current 30th anniversary issue and on their website, as early packages need to be booked now. They are indeed promoting the event now, but not mentioning any such house. Furthermore, the magazine has participated at HHN several times in the past by broadcasting Fangoria radio live. This could just as easily be the supporting content indicated.

Thus, I feel that the attempts many have made recently in the previous Speculation thread and elsewhere to "match-up" the code names we have now, with the supposed houses derived from this diagram to be based on erroneous suppositions.

First, it assumes the diagram is in fact legitimate, and we do not actually know that.

Second, it assumes the diagram represents a finalized plan for HHN 19, and as I have shown it does not.

Third it assumes that the items listed as supporting content in the third and fourth tiers are all meant to represent individual houses, it does not say that, and there are not enough items there for this to be true. Some of those items may very well be houses, of course, but we cannot be 100% certain which items specifically and in what combinations. (Dracula and Frankenstein are both individual items of intellectual property, but they could be combined into one presentation.)

Therefore it is very likely that there will be elements at HHN 19 not represented in this diagram - including houses. So some recent speculation as to the inclusion of houses based on other film properties not mentioned in the diagram may prove to be accurate, even if this does turn out to be a legitimate document. Indeed, suppositions recently made about houses not tied into any film properties at all may prove accurate as well."

This post has been edited by Dr. Jimmy: Jun 12 2009, 12:34 PM
Halloween Horror Nights: Ripped From the Silver Screen Merchandise and Collectables
Edit