Halloween Horror Nights 13 was the 13th Halloween Horror Nights event in Orlando. The event was located in Islands of Adventure for the second year in a row. The Director, also known as Paulo Ravinski , hosted the event, telling guests that "The Director Will See You Now". The event featured six haunted houses, six scare zones, and two special shows, and ran for 21 days from October 3 to November 1, 2003.
The Event
Edit
For its 13th year, the event's theme was based on the evil mind of the Director, a film creator who often did short snuff films in which his victims died on camera. The houses were all "sets", and the Director himself hosted his own stage show, Infestation, where guests were invited up on stage to live out their fears of creatures. The event's commercials featured a cover of the song You Oughta Be In Pictures by the Boswell Sisters. As with Halloween Horror Nights: Islands of Fear, the scarezones were featured in each of Islands of Adventure-themed lands. Only Boo-Ville and the Port of Evil returned for 2003's event. The Port of Evil served as a gathering point for guests to enter into the Director's world. Immortal Island, which took over the Lost Continent, was the battleground of the Ice and Fire Demons and their minions. Boo-Ville, which took over Seuss Landing once again, was a darkened world where all the creatures are locked indoors for the night. In Night Prey, located in Jurassic Park, intelligent creatures stalked guests through a tropical island. In Hide & Shrieeek!, located in Toon Lagoon, the cartoons came alive in a world of insanity. Finally, in Toxic City, located in Marvel Superhero Island, guests walked through a quarantined city where toxic waste spilled onto the streets and mutated creatures lived. The Director appeared in All Nite Die-In, where he welcomed guests through the drive-in theatre and into the house from Halloween, Camp Crystal Lake from Friday the 13th, Hell's Furnace from A Nightmare on Elm Street and Leatherface's kitchen from The Texas Chainsaw Massacre. In Screamhouse: Revisited, guests returned to the Caretaker's Victorian manor, where his victims tried to make sure they never leave. In Psycho Scareapy, guests entered Shadybrook, where the inmates squash any hope of escape. In Jungle of Doom, bloodthirsty zombies chased guests after trespassing on the Burial Ground of Lost Souls. Funhouse of Fear was a house of optical illusions and maniacal clowns with no exit. Finally, Ship of Screams, whose name is a play on words with "Ship of Dreams," was an aging cruise liner whose decks were manned by a crew of ghosts.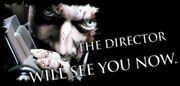 Ad blocker interference detected!
Wikia is a free-to-use site that makes money from advertising. We have a modified experience for viewers using ad blockers

Wikia is not accessible if you've made further modifications. Remove the custom ad blocker rule(s) and the page will load as expected.