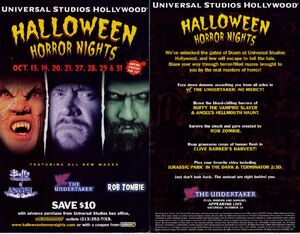 Halloween Horror Nights 2000 was Halloween Horror Night's 5th time at hollywood
Mazes
Clive Barker's Harvest - You'll walk through a hole in the wall of a mausoleum leading into the ground where something is reclaiming the dead to incubate its young
Theatre of Blood - A vault of Universal's classic horror films, where you'll find yourself prey to the most merciless celluloid slashers and fiends
Shows
Chucky's Insult Emporium - The infamous doll from hell's insults feast on the feeble, the ill-at-ease, and the socially inept.
Carnival of Carnage - Medieval torture... sword swallowers, fire and glass eaters, and human pincushions toast their unusual talents with stomach churning chasers of cockroaches, worms, and maggots.
Animal House of Horrors - Featuring pythons, cockroaches, bats, and rats.
Ad blocker interference detected!
Wikia is a free-to-use site that makes money from advertising. We have a modified experience for viewers using ad blockers

Wikia is not accessible if you've made further modifications. Remove the custom ad blocker rule(s) and the page will load as expected.