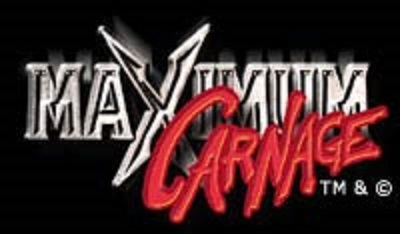 Maximum Carnage was a house that took place at Halloween Horror Nights: Islands of Fear. It altered the storyline from Marvel.
Location: Carnage Warehouse
Description
Edit
Venture into the labyrinth-like secret hideout of the malevolent Carnage, an insane criminal with incredible alien powers, who's bent on mindless destruction.
Walkthrough
Edit
The maze starts as guests entered under an arch made of electric wires, and a dead police man was tangled up in the wires. Guests first saw Carnage on a balcony above taunting them, as a chainsaw wielding Xorn attacked guests.There were bodies of superheroes throughout the house, making this a tragic house. Villains such as not only Carnage, but Sabretooth, the Silver Samurai, Xorn, and the Purple Man have appeared through the house attempting to slaughter guests. Many of the bodies were mutilated, but you could make out which hero it was. For example, Spider-Man was decaptitated, Wolverine's arms were ripped off, and Captain America was covered in blood.
Carnage
Man with melted face
Xorn
The Punisher
Scream
Electro
Guy wearing coveralls with a gun
The toll booth, and the truck in the house were reused in Horror Nights: The Hallow'd Past.
There are only a couple of scenes that use actual wood walls. Most of the houses walls are scaffolding.
Ad blocker interference detected!
Wikia is a free-to-use site that makes money from advertising. We have a modified experience for viewers using ad blockers

Wikia is not accessible if you've made further modifications. Remove the custom ad blocker rule(s) and the page will load as expected.