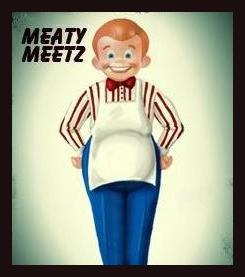 Meaty Meetz is the name of the mascot for 'Meetz Meats and the face of Leave it to Cleaver. The mascot is depicted as a smiling portly man with red hair and wearing blue jeans, a red and white shirt, black shoes and a butcher's smock. Members of the Meetz Meats employees including Mr. Samuel Meetz himself wear Meaty Meetz masks to disguise themselves whenever they go out into town to find lawbreakers or homeless people to be killed and ground into meat at the Meetz family's butcher shop. Mr. Meetz also sells these masks to the children of Carey, Ohio and to tourists as souvenirs. The scareacters in Leave it to Cleaver wear the masks as well. At the end of the Leave it to Cleaver maze, a man dressed as Meaty Meetz chases guests out with a chainsaw.
Meaty Meetz returned as a Scareactor at Halloween Horror Nights 25 in the Jack Presents: 25 Years of Monsters and Mayhem house.
REDIRECT Template:HHN: RftSS
Ad blocker interference detected!
Wikia is a free-to-use site that makes money from advertising. We have a modified experience for viewers using ad blockers

Wikia is not accessible if you've made further modifications. Remove the custom ad blocker rule(s) and the page will load as expected.