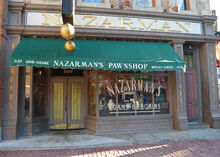 Nazarman's was a house location at Halloween Horror Nights Orlando that was used from 1993 to 2001 and then once again in 2007. The houses were held inside the New York Streets façade in the space that is now occupied by a Ben & Jerry's and a Starbucks.
Ad blocker interference detected!
Wikia is a free-to-use site that makes money from advertising. We have a modified experience for viewers using ad blockers

Wikia is not accessible if you've made further modifications. Remove the custom ad blocker rule(s) and the page will load as expected.