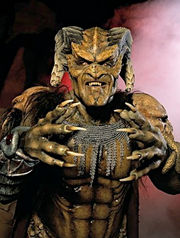 Nightmare was a character that first appeared in 2002's Halloween Horror Nights: Islands of Fear, who was a demonic, nightmarish figure created to become the face of the scare zone titled Island of Evil Souls. When he returned for Halloween Horror Nights 13 in 2003, he once again had his own scare zone titled Immortal Island, and he fought Darkness in the Final Battle.
During 2005's Tales of Terror, he made a brief appearance in the queue video for Terror Mines.
In the Reflections of Fear event in 2008, he was mentioned on the Legendary Truth website, as a previous case for the Collective. Nightmare also appeared in the event itself in the one of the video monitors on Interstellar Terror.
Ad blocker interference detected!
Wikia is a free-to-use site that makes money from advertising. We have a modified experience for viewers using ad blockers

Wikia is not accessible if you've made further modifications. Remove the custom ad blocker rule(s) and the page will load as expected.