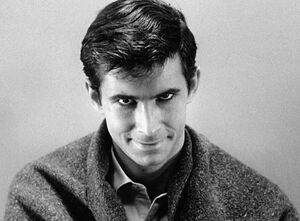 "A boy's best friend is… his mother."
- Norman Bates
Norman Bates was a reccuring character throughout Halloween Horror Nights. He has appeared in his own line of Psycho Path houses, as well as a few guest appearances elsewhere.
In 2012 it was revealed that Norman Bates was a part of The Strengoit Legion.
Halloween Horror Nights Hollywood
Edit
Norman Bates always appears in the Psycho section of the annual Terror Tram.
In 2010, Terror Tram: Chucky's Revenge, Norman Bates was seen in his usual incarnation, as well as a new zombie and werewolf incarnation.
Appearances at Halloween Horror Nights Orlando
Edit