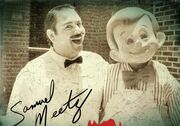 Sam Meetz is a character featured in the Leave it to Cleaver haunted house at Halloween Horror Nights: Ripped from the Silver Screen. Sam is an overly friendly butcher who owns and operates Meetz Meats, a meat factory which slaughters hobos, lawbreakers and unauthorized visitors, and then butchers them into delicious meat which is sold at the factory's diner. Also, the factory is believed to be the main food provider for the Universal Palace Theater, and the main source contributing to the findings of human fingers as well as other human body parts in the Palace's concession stands food. He explains in the queue video that his grandfather, founder of Meetz Meats, came to America from Romania during WWI. Initially starting out the company by selling meat from a pig and bovine livestock, Sam's father, who inherited the business, began losing money during the Great Depression. So, he decided Meetz Meats' livestock would secretly be changed. Instead of butchering pigs, the company would instead secretly butcher hobos, town lawbreakers, and unauthorized visitors to the factory into delicious meat. Not only did this keep the storehouses full, it helped keep the streets "clean of vagrants, riffraff, and ner-do-els." After the first couple humans were butchered, the new products became an instant success, and Sam's father decided to keep the human livestock going. Sam now continues his father's trend, and has become a millionaire, with Meetz Meats as the most popular meat factory in Wyandott County, Ohio.
His picture also appeared in the pizza place in Resident Evil: Escape From Raccoon City.  
Ad blocker interference detected!
Wikia is a free-to-use site that makes money from advertising. We have a modified experience for viewers using ad blockers

Wikia is not accessible if you've made further modifications. Remove the custom ad blocker rule(s) and the page will load as expected.