Saws N' Steam (or Saws and Steam) was one of the Scarezones that takes place at Halloween Horror Nights: Twenty Years of Fear It would later be revisited in 2011 in the form of a house, Saws N' Steam: Into The Machine. It was locate in New York .
Description
Edit
In the steampunk city of New Yorkshire, steam is power. Unfortunately, enormous trenches have opened in the oceans, the heat boiling them away. With no other way to provide power, the Horizon came into power and began secretly murdering anyone who reached the age of 30 and processing their bodies to extract the water. The scarezone opens as chaos has taken over New Yorkshire, with roaming bands of killers openly slaughtering and processing victims in the streets.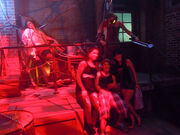 Characters
Edit
Chainsaw Drill Team
Victim
Steam Machine Mechanic
Ad blocker interference detected!
Wikia is a free-to-use site that makes money from advertising. We have a modified experience for viewers using ad blockers

Wikia is not accessible if you've made further modifications. Remove the custom ad blocker rule(s) and the page will load as expected.