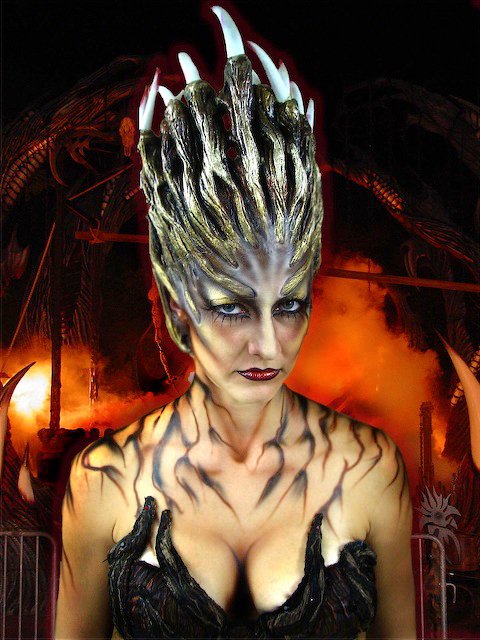 The Terra Queen was one of the icons of Halloween Horror Nights: Tales of Terror in 2005. She ruled over the Terra Cruentus, stalking the land on her monstrous motorcycle and giving out commands to her Black Guards and other followers. She was always present when the ceremony of blood was going underway, and she concluded every ritual with a sacrifice of pure blood, one of the key ingredients for making a ceremonial dagger for the next ritual.
Personality
Edit
The Terra Queen was cruel and heartless. She had lawbreakers sent to the Body Collectors in the Gorewood Forest. She couldn't speak; only make hissing, growling, shrieking and roaring sounds, so her interpreter Eel Mouth is always close by whenever she starts the ceremony at the Terra Throne.
The Terra Queen was sacrificed on the final night of the event, but returned in the 2009 scarezone, Shadows from the Past. In 2012, it's revealed that she's a member of the Legions of Horror; a Maschorian along with her interpreter, Eelmouth, Eddie Schmidt and The Storyteller.
Pictures
Edit