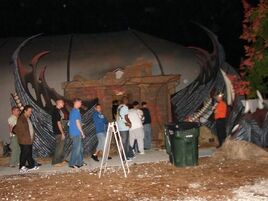 The Hallow was one of the houses that took place at Halloween Horror Nights: Reflections of Fear. It was located in Sprung Tent 1.
Description
Edit
Where do the traditions we observe each Halloween come from? It is said that every Halloween within the blackest parts of the forest, Samhain, The Lord of the Underworld, lives again and the souls of the damned beckon you. For if you journey deep enough, you will see that Samhain's traditions are trapped within The Hallow.
Experience
Edit
Guests would enter to a hallway like room with a opening in the middle of the wall where a scareactor would scare guests. Then they would enter a forest like room with vines hanging down and pumpkins scattered about.
Scareactors
Edit
Witch
Skeletal corpse
Pumpkin head
Woman
Ad blocker interference detected!
Wikia is a free-to-use site that makes money from advertising. We have a modified experience for viewers using ad blockers

Wikia is not accessible if you've made further modifications. Remove the custom ad blocker rule(s) and the page will load as expected.