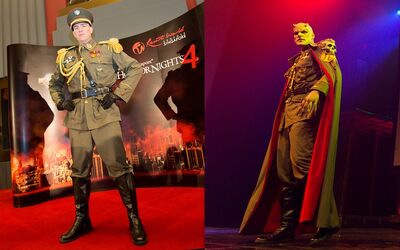 The Minister of Evil; real name Jonah Goodwill, was the Icon used for Halloween Horror Nights 4.
Military hero Jonah Goodwill was elected to become the first World Leader, with his opponent, finance titan Walter Bale losing by a landslide. At the inauguration for world leader, many protesters rallied, all of them calling out Goodwill and calling him a tyrant and an evil monster. Upon stepping out of the limo and taking the stage, the mob booed and shouted, trying to get past riot police squads. Ignoring the crowd and taking the stage and waving to his supporters, Jonah announced, "Citizens of the world, you were wise to elect me! I hereby stand as the first World Leader! Submit to my rule, and we will rise FOR ETERNITY!" Suddenly, two protesters broke through and opened fired at the newly elected ruler. Suddenly, the man stood up and revealed his true form: a horned demon with huge, bat-like wings. With a snap of his fingers, he set the two protesters on fire and declared that his rule has begun.
Ad blocker interference detected!
Wikia is a free-to-use site that makes money from advertising. We have a modified experience for viewers using ad blockers

Wikia is not accessible if you've made further modifications. Remove the custom ad blocker rule(s) and the page will load as expected.