The Skoolhouse was one of the Scarezones at Halloween Horror Nights: Reflections of Fear Location Mel's Drive-In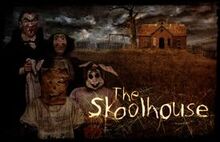 The Skoolhouse is a sequel to the house from Tales of Terror, The Skool. but as a scarezone. During the 2015 event, the chalkboard that has her poem written on it has her name erased, a reference to the legal issues regarding Bloody Mary's use in entertainment. Mr. Renshaw's class has always been good. Mr. Renshaw's class has never broken the rules. Mr. Renshaw's class has always been perfect little angels. All of that changes when the kids from the Skoolhouse "cut" class. The children of the quaint town of Carey, Ohio are out to teach everyone that their version of Trick or Treat may be the difference between your life and death.
Scareactors
Edit
The scareactors are children in halloween costumes.
Ad blocker interference detected!
Wikia is a free-to-use site that makes money from advertising. We have a modified experience for viewers using ad blockers

Wikia is not accessible if you've made further modifications. Remove the custom ad blocker rule(s) and the page will load as expected.