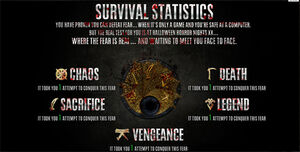 The Warehouse eXXperience was a series of minigames that took place on the sets of 5 Halloween Horror Nights houses with different objectives for the player. Each of these mini games had elements of various Halloween Horror Nights: Twenty Years of Fear houses, such a gas-masked surgeon akin to the mascot of Havoc: Dogs of War appearing in "Chaos" and a Spirit Seekers-like camera being used in "Death". So, in that respect, these games were also previews for that events' houses in addition to ultimately giving a preview of Fear.
The player would earn a statuette of each respective Halloween Horror Nights icon (Jack the Clown, The Storyteller, The Director, The Caretaker, and The Usher) to be placed in a circle of slots that would unlock a special video about Fear at the end. Each game had a different objective and would end with a screamer (save for "Legend" where the screen gets blurred by rising water) and a "YOU ARE DEAD" notice if the player lost the game. The website required players to be age 13 and older.
Houses and Objectives
Edit
Ad blocker interference detected!
Wikia is a free-to-use site that makes money from advertising. We have a modified experience for viewers using ad blockers

Wikia is not accessible if you've made further modifications. Remove the custom ad blocker rule(s) and the page will load as expected.